Back to News
Staffing Announcement: Career Path District Principal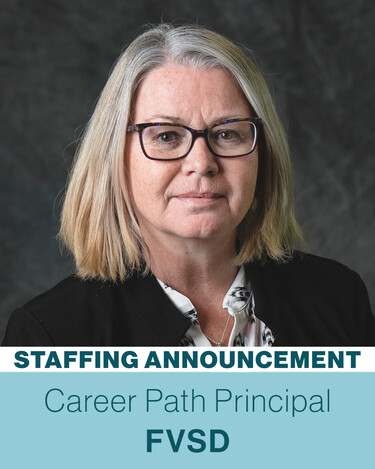 Fort Vermilion School Division is pleased
to announce the following appointment:
Anne Roberts, Career Path District Principal
Fort Vermilion School Division
The Career Path District Principal will engage FVSD schools, Post-Secondary Institutions and Industry in preparing students to transition out of high school.
Through the collegiate model, schools will be supported as they expose students to an array of career choices and help students connect learning to specific paths of academic learning. The collegiate model builds community partnerships directly linked to Post Secondary where students are ensured to be on the path of success, leaving high school with credentials.
We are pleased to announce the appointment of Anne Roberts as Career Path District Principal. Anne began her teaching career with the FVSD in 1984 teaching at Upper Hay River School and Florence MacDougall Community School before moving into the Assistant Principal position and later Principalship at Spirit of the North Community School. Since 2015 Anne has served in her current role as Principal of District Programs. Anne received her Masters in Educational Leadership in 2015.
"As a teacher, assistant principal and principal for the past 37 years; learning is always empowering, I can't learn enough! The modalities in which we learn are shifting. Stepping into the newly created role of Career Path District Principal permits me the opportunity to build on the already innovative paths to success for our students. Paths which encompass creative, flexible and future oriented opportunities. I will support all schools as they share an array of career choices, make connections to skills required for specific work and realize the academic rigor required for success. Looking forward to being of assistance to many. I have the honor of impacting students who are nearing the end of their high school paths and creating new paths for others. Sounds like the perfect fit for me!"