Notice regarding changes at the Fort Vermilion Donation Centre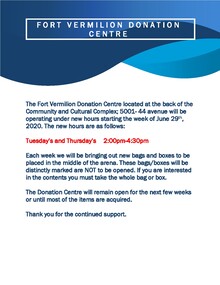 The Fort Vermilion Donation Centre located at the back of the Community and Cultural Complex; 5001 - 44 Avenue will be operating under new hours, starting the week of June 29, 2020.
Tuesdays and Thursdays - 2:00 p.m. - 4:30 p.m.
Each week, we will be bringing out the new bags and boxes to be placed in the middle of the arena. These bags/boxes will be distinctly marked and are not to be opened. If you are interested in the contents, you must take the whole bag or box.
The Donation Centre will remain open for the next few weeks or until most of the items are acquired. Thank you for your continued support.