View All News
Makayla Reed named FVSD Edwin Parr Nominee for 2022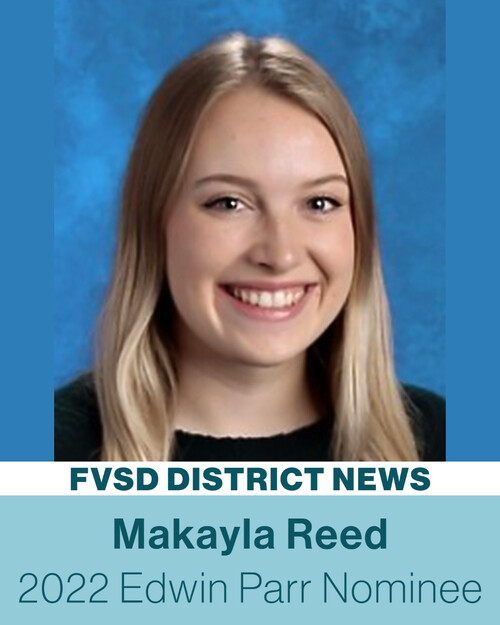 First-year grade four teacher Makayla Reed from Buffalo Head Prairie School (BHPS) is this year's Fort Vermilion School Division Edwin Parr Nominee.
"I am so honored to be the Edwin Parr Nominee for the Fort Vermilion School Division!" said Reed when she learned of her nomination.
She continued, "It was also a reassurance that my hard work was paying off and that I was doing a good job teaching the students in my class. I have always wanted to do my best, so my students can do their best and reach their full potential."
A dedicated teacher, Reed began the school year well before September – spending the summer prepping to take on her first year of teaching. Buffalo Head Prairie School Principal, Chris Fehr feels her nomination is well deserved. "Miss Reed has demonstrated exceptional organizational qualities and has pushed herself to learn and grow as a young teacher, even when the workload was, at times, overwhelming. Miss Reed has demonstrated kindness and care for her students, school staff, and members of the community."
Fehr also acknowledged the support Reed has had from a strong team of educators at BHPS, everyone is proud of Reed's accomplishments this year and see her success as their own success.
A sentiment echoed by Reed herself, "Without the support from the staff here my year would have turned out very differently, I have been able to learn so much from the amazing staff here. I have also had the privilege of working with a fantastic full time EA in the classroom, she has taught me so much in terms of working with students who have disabilities. I could not have done this year without her and the staff here at this school."
For new teachers Reed says, "The best advice I could give to a first-year teacher is, it will be a hard yet rewarding and memorable year. Take each hurdle or unknown as a chance to learn and grow, without hurdles there is no growth."
While stressing the value of feedback and suggestions from more experienced staff, she also highlights the importance of taking time for yourself. "When your emotional bucket is full you will not be able to be at your best. Make sure you are doing things to empty that bucket, so to speak, to help you be at your best which will then help your students be at their best. Remember to relax and do things that you enjoy doing!"
For almost 60 years, the Edwin Parr Teacher Awards has recognized outstanding first-year teachers across the province. Each year six teachers are chosen from nominations sent in by school boards and are honored for their outstanding work in education.