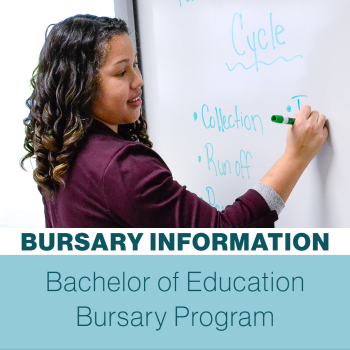 Fort Vermilion School Division has created a Bursary Program that will pay tuition fees for university students from our region who are working towards a Bachelor of Education.
The aim of this program is to assist students, staff and community members obtain their Bachelor of Ed. Degree and have the opportunity to live and work in their home community once their studies are complete. 
Associate Superintendent, Scot Leys is a huge proponent of the Bursary Program and sees enormous benefits to hiring local, saying "The Fort Vermilion School Division BEd Bursary is an opportunity for us to grow our own teachers. This way we can hire individuals that know the north and are familiar with our cultures and communities. We want local teachers that will stay and impact FVSD students throughout their careers."
Apply By:
JANUARY 30, 2022

Click here to learn more:
FVSD BEd. Bursary


Not just for recent grads, this Bursary is designed to give mature students an opportunity to obtain their degree. Maybe post-secondary wasn't in the cards right after high school or the demands of children and family took precedence over further education. Whatever the reason, the Division strongly encourages anyone interested in obtaining their Bachelor of Education Degree to apply.  
Applicants must meet ONE of the following requirements:

be graduating from an FVSD high school
be currently working for FVSD (min 2 yrs)
be currently living within FVSD (min 3 yrs)
There are incredible people in the region who understand our communities, schools and unique local needs much more intimately than someone new to the area. In addition to local knowledge and connections, teachers from our region can be fantastic role models for youth thinking about entering the education field.
"The FVSD Bursary Program provided me with the opportunity to receive my Bachelor of Education Degree without having to leave my community. I am incredibly grateful for this program and to the FVSD for the opportunities they continue to provide." - Carmen Shaw, First Year Grade 6 teacher at SNCS.
Currently there are nine students in the University of Calgary online program, who are also Bursary recipients. Upon graduation these individuals will be entered into the FVSD HR Pool following an interview with Fort Vermilion School Division.
Visit our Bursary information page for more details and a link to the online application: 
FVSD Bachelor of Ed. BURSARY