Reminder: "Bus Status" app available for smartphones!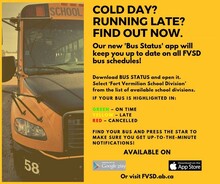 Winter is coming. And with it, the snow, and the cold, and the uncertainty for many families about whether the school bus will be running late or not at all.
Fort Vermilion School Division's new "Bus Status" app will let you know if your child's school bus is running on time, is running late, or is cancelled. This new app replaces a previous one used by FVSD and works much the same as the old one.
You can download it for free to your smart phone via Google Play or the App Store! Bus status information will also continue to be available on our FVSD home page!