Back to News
Building Futures for Northwestern Alberta Students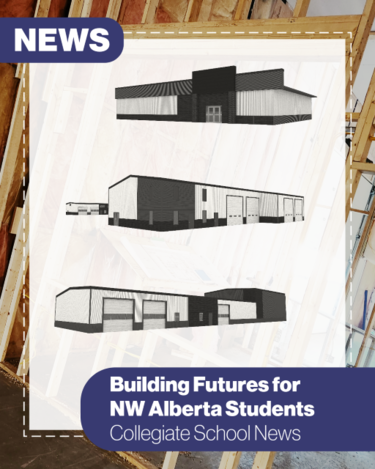 Fort Vermilion School Division is expanding career training and availability of college level programs for high school students with the opening of Building Futures Collegiate School in February 2024.
Building Futures will operate in conjunction with existing FVSD high school buildings and utilize space in three new facilities within the communities of High Level, Fort Vermilion, and La Crete. This new education model will better support students to achieve success in their chosen career path. Each facility will feature a technology lab with equipment simulators, shop space for hands-on learning, and multi-use classrooms to complement high school spaces and tools already in use.
The first year of our new collegiate school will see programs in education, health care, a flight school, small home construction and sales, and mechanics, with many more paths being finalized for delivery over the next couple of years.
Exposing students to a variety of possible career paths in junior and senior high, Building Futures is designed with the goal of every student graduating with credentials to help them succeed in life. By shifting to a collegiate model of delivery, Fort Vermilion School Division will give our youth access to training and certification in their chosen career.
Many of these programs will be delivered through partnerships with Alberta post-secondary institutions: Northern Lakes College, Olds College, Lethbridge College, and SAIT. Students will complete high school with either the credentials needed to begin their careers or the ability to jump into the second year of a post-secondary program using college credits earned in high school. By funding tuition and application fees, the Division works to make education and training accessible to as many students as possible and encourages homeschool and private school students to enroll through alternative education options Northern Home Education or Pathways.
In preparation for the opening of the three new facilities for use in January 2024, the Board of Trustees has approved a unique name for each one.
Sipiwan Center Fifteen in Fort Vermilion refers to the deep Cree and Metis roots of many in the community (Metis District 15) and the mighty Peace River that flows through the landscape.
In recognition of a long-time resident and local businessman, Gramson Center in High Level is in a prime location and only a short walk from High Level Public School.
With a name influenced by local Mennonite culture, De Oabeit School in La Crete means 'work' school in Low German, a commonly spoken language throughout the community and surrounding rural areas.
The two facilities in La Crete and High Level will also house Pathways, FVSD's outreach and alternative education school. Both campus locations will move into the buildings for the new calendar year, where Pathways students will continue their classes for the remainder of the 2023-2024 school year.
Want to know more about how Building Futures Collegiate School will give our children the EDGE to succeed?