View All News
Alternative Education Paths Discussed at Info Night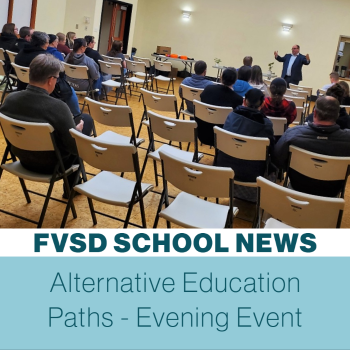 Thank you to all who attended our first FVSD Information Night for Alternative Education Paths! 
Parents and guardians from around the Division were invited to attend an Information Night in either La Crete or High Level last week to learn more about the Alternative Education Paths FVSD offers students and their families. Over the years Fort Vermilion School Division has continually evolved with changing student needs, the At-Home Learning Centre being our most recent addition.
In addition to 14 traditional schools where students learn in typical classrooms, FVSD has three alternative schools to meet the needs of students and their families.
Northern Home Education (NHEC) supports parents in their decision to homeschool their children. Parents have full control over the curriculum while benefiting from the supports offered through NHEC and FVSD. Families receive assistance with choosing a curriculum and developing a learning plan as well as practical and financial assistance to purchase supplies and required materials. Unlike other Divisions, NHEC families can access their funding in the spring and begin making purchases for the following school year. For families not able to cover some costs up front, the Principal can assist with the purchase. An active and engaged homeschooling community with regular planned activities facilitated by NHEC helps students connect, while parents learn from and support each other.


At-Home Learning Centre (AHLC) is an online learning school, created in direct response the COVID-19 crisis. With many families uncertain about sending their children to school for in-person learning AHLC offered parents an option to school at home while remaining part of the larger school community. The school has continued to grow, with enrollments from as far away as Slave Lake and Brownvale. Unlike many online programs, AHLC classes are conducted in a synchronous format – meaning students are taught in real time by a live teacher. Teachers interact with students and students interact with each other through the meeting platform. GoGuardian allows teachers to monitor student screens, help troubleshoot issues and keep students on task. Regular social events and gym nights give students the opportunity to connect in person and stay active.


Learning Stores are part of an Outreach Program operated by Fort Vermilion School Division in High Level and La Crete. Students in grades 9-12 can complete their high school courses at their own pace, earning their diploma in a flexible and supportive environment. Students are encouraged to take ownership of their education and participate in course selection, setting goals and creating their own schedules. Caring staff support students based on their individual situations and needs and celebrate every success with their "kids"! A non-traditional approach to public school education, Learning Stores have helped many students that otherwise may not have been able to obtain their High School Diploma.
Students and families are not limited to just one choice, Blended Programming and transfers from homeschool into a Learning Store are encouraged and allow students to experience the best of both worlds.
For example, a student in a Blended Program through NHEC follows the homeschool curriculum chosen by their parent while also attending a Math class through AHLC, receiving instruction from a certified teacher along with other students in a virtual classroom.

Youth looking to obtain a high school diploma after homeschooling or finding a traditional school structure is not meeting their needs, can enroll in a Learning Store and benefit from a supportive environment and flexible learning schedule.
A big takeaway from all three presentations was the commitment and genuine care principals and staff have for their students. While each school is unique in structure and delivery models, they all work together to provide access to the best possible education for your child. Fort Vermilion School Division may be small but our hearts are huge! We pride ourselves on delivering quality education in safe, and caring environments – giving every student the best opportunity we can for them to be successful.
For more information about Northern Home Education, At-Home Learning Centre, or Learning Stores Outreach Program please call the school, drop in for a visit, or check out their website!
Northern Home
Education Centre

10308-100 Street,
La Crete AB T0H 2H0

Office: 780-928-0212
Cell: 780-821-0586

At-Home Learning Centre

10800 Rainbow Boulevard,
High Level AB T0H 1Z0

Office: 1-587-323-8840
Cell: 1-587-323-8841

Learning Stores
Outreach Program

10800 Rainbow Boulevard,
High Level AB T0H 1Z0

Office: 780-926-3626
Text: 780-502-9176
Alternative Education Paths - March 2022 Info Night
Parents and guardians were invited to attend Information Nights in La Crete and High Level to learn about the Alternative Education Paths offered to students and their families through FVSD.