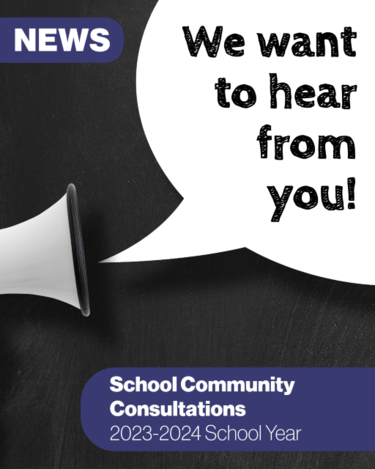 FVSD's annual Community Consultations are set to begin tomorrow, with the first event taking place at Rainbow Lake School.
Throughout the months of October, November, December, Superintendent of Schools Mike McMann and members of Central Office staff will be attending an evening event at each Division school. Parents and guardians around the Division are encouraged to attend the Community Consultation taking place at your local school.
What is a Community Consultation? 
It is an opportunity for you to speak directly with the Superintendent and your local school Trustee(s). The conversation, collaboration and engagement of students and parents at both the system and local school level will assist in providing an assurance that a quality education has been provided and achieved. In order to meet the needs of our students and communities we need your feedback!
What topics will be discussed?
As well as the four current Division priorities of Connectivity, Literacy, Numeracy, and Career Paths, the following topics will also be covered.
2024-2025 School Calendar: What are your thoughts on next year's calendar? What do you think about a shorter school year? The Board of Trustees is seeking input on what an alternative calendar may look like. The Board's calendar MUST follow the Alberta Education guidelines of 950 instructional hours for elementary and 1,000 instructional hours for high school, therefore hours of instruction will remain the same. Further details and the proposed last day of school will be discussed at each school consultation.

Find more information on Alberta Education requirements here: Grades 1 to 9 | Grades 10 to 12 


Understanding the Collegiate: Get a sneak peek, and learn more about Building Futures Collegiate School and the exciting changes in store for the 2024-2025 school year! We will cover programs that will be available the first year and are looking for feedback to inform future programming as we move forward with this new education model.

Find more information on Building Futures here: Building Futures Collegiate School


How are we doing? Where are we going? And, how will we get there? These Consultations perform the important function of providing an opportunity for the Superintendent, Trustees and parents/guardians to come together and discuss community needs.
Please join us! Each school will begin their Consultation event at 7 PM.
Community Consultation Dates by School:
October 25 - Rainbow Lake School
October 26 - Blue Hills Community School
November 6 - Buffalo Head Prairie School
November 8 - Sandhills Elementary School
November 15 - Fort Vermilion Public School / St. Mary's Catholic School
November 16 - High Level Public School / Pathways - High Level & Area Families

Location: High Level Public School

November 22 - Rocky Lane School
November 23 - Hill Crest Community School
November 27 - La Crete Public School
November 28 - Florence MacDougall Community School
November 30 - Ridgeview Central School
December 13 - Upper Hay River School
December 14 - Spirit of the North Community School
February 5 - Pathways - La Crete & Area Families / Northern Home Education Centre

Location: Pathways, La Crete Campus
For more information contact FVSD Central Office at 780-927-3766 (click here to EMAIL) or contact your local school office.