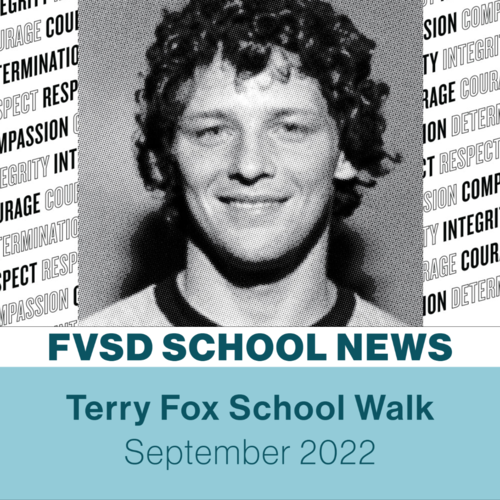 Between September 23 and September 28, FVSD schools hosted their own Terry Fox Walk. (September 23, 2022 was the official date for the Terry Fox School Run.)
In preparation for the event students learned about the life of Terry Fox and the legacy he left behind through classroom discussions and video presentations. Parents were invited to attend presentations and to join their children for the school walk. During the week leading up to the event students also collected Toonies for Terry, raising hundreds of dollars to go towards cancer research. 
Whether they were walking through fields and forests or down community sidewalks, students, parents and staff came together to show their support. Check out some photos in the gallery below! 
A Canadian athlete, humanitarian and cancer research activist, Terry Fox lost his leg to cancer at 18 years of age. In 1980, Terry began the Marathon of Hope with a goal to raise money for cancer research. He dipped his artificial leg in the Atlantic Ocean on April 12, 1980 and ran a marathon a day for 143 days, running a total of 5,373 km. Although he was unable to complete his run, Canadians across the country have taken up his cause and host annual runs each fall to continue the legacy that Terry began. 
To learn more about the life of Terry Fox, visit the Terry Fox Foundation website.
Terry Fox Walk - September 2022
Between Sept 23 and Sept 28, FVSD schools held Terry Fox Walks and raised funds for cancer research with "Toonies for Terry". Students also learned about Terry Fox and his legacy.