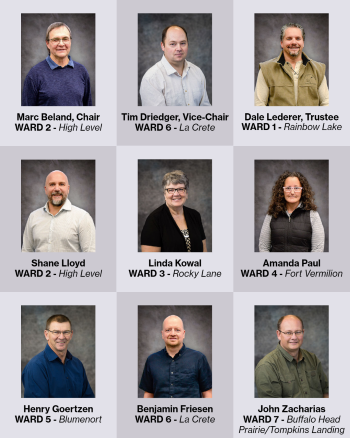 Join us in welcoming the new FVSD Board of Trustees! Trustees were sworn in the morning of October 27, 2021 at the School Division Central Office in Fort Vermilion. The swearing in ceremony was followed by the Organizational & Regular Board Meetings.
Congratulations to all new and returning trustees, we are looking forward to a great term!
Marc Beland was elected as Board Chair and is beginning his fifth term as Trustee. Tim Driedger was elected to serve as Vice-Chair and is starting his third term in office.
Incumbent, Dale Lederer returns as Ward 1 Trustee for Rainbow Lake by acclamation. Dale has served on the Board in prior years for a total of 4 terms.
Ward 2 has re-elected Marc Beland, this will be his first term as Board Chair. Newly elected Trustee, Shane Lloyd joins him for High Level.
Linda Kowal returns as Trustee of Ward 3 in Rocky Lane for a second term, winning by acclamation.
Ward 4 has a new Trustee; Amanda Paul has been elected for her first term in Fort Vermilion.
Incumbent, Henry Goertzen continues as Ward 5 Trustee for Blumenort by acclamation. This term will be Henry's third with FVSD.
Tim Driedger, the new Vice-Chair and Incumbent Trustee for Ward 6 was elected to a third term in office. He is joined this year by a second Trustee for La Crete, newly elected Benjamin Friesen begins his first term.
Buffalo Head Prairie / Tompkins Landing keeps the same Trustee this term, John Zacharias returns to Ward 7 for a second term with an acclaimed win.
All Regular Board Meetings begin at 1:00 PM and are held at the School Division Central Office in Fort Vermilion. Board meeting dates, meeting minutes and contact information for all trustees is available here: FVSD Board of Trustees
Meeting Dates:
| | | |
| --- | --- | --- |
| September 29, 2021 | January 26, 2022 | May 18, 2022 |
| October 27, 2021 | March 9, 2022 | June 15, 2022 |
| November 24, 2021 | April 13, 2022 |   |
Access to the public portion of each Board Meeting is available through Microsoft Teams. Please contact Darlene Bergen, Executive Assistant to the Superintendent of Schools, at 780-927-3766 to register.