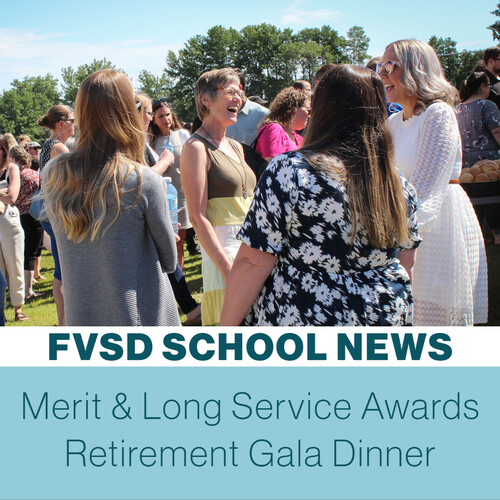 For the first time since September 2019, over 500 FVSD employees gathered together in one location to celebrate their colleagues and friends at the annual Fort Vermilion School Division Merit & Long Service Awards. Last Tuesday's awards ceremony, held at Fort Vermilion Public School/St. Mary's Catholic School, was followed by a picnic lunch under a brilliant blue summer sky. Thank you to the Fort Vermilion Volunteer Fire Department for grilling up hundreds of burgers for a hungry crowd!
On a warm spring evening in late May, FVSD retirees were recognized at a Retirement Gala & Dinner held in their honor at the Mirage Conference Centre in High Level. From twenty years to nearly forty, the dedication of these eleven staff members over the years and generations has had an incredible impact on our students and our communities.
Congratulations on Your Retirement!
| | |
| --- | --- |
| Cathy-Dee Brand 29 Years | Con Mercredi 39 Years |
| Marilyn Boissy 32 Years | Jane Rosenberger 28 Years |
| Linda Dyck 27 Years | Laurie Rowland 34 Years |
| Donna Kniel 39 Years | Ann Thompson 31 Years |
| Krista Lederer 20 Years | Cathy Wiseman 21 Years |
| Michelle Mealy 22 Years |   |
Each year, FORT VERMILION SCHOOL DIVISION recognizes the outstanding efforts made by staff through the FVSD Merit Awards while the Annual Long Service Awards recognizes the commitment of our staff to serving the region. 
Over 75 staff members were recognized for their dedication – serving between five and 40 years with FVSD. Merit Awards for schools in the categories of Connectivity, Numeracy and Literacy were awarded. Individual Teacher/Administrator, Support Staff and Bus Driver Merit Award recipients were also announced.
Congratulations to all Award Recipients! Your efforts and dedication to our students is admirable and deserving of recognition and heartfelt thanks.
SCHOOL MERIT AWARDS:
Connectivity - Blue Hills Community School
BHCS defines connectivity as the energy that arises between people when they feel seen, heard and valued. Throughout the 2021-2022 school year staff sought to create learning experiences and a school culture of belonging instead of merely fitting in.
Literacy - Upper Hay River School
For the 2021-2022 school year, UHRS has taken an innovative approach to Literacy. With extensive work in Units of Study in Writing, this school has seen many children learn how to write for the first time.
Numeracy - Fort Vermilion Public School / St. Mary's Catholic School
Staff made a commitment for 2021-2022 to change instructional practices at FVPS/SMCS. New teaching strategies and small group instruction allowed staff to meet students at their level and move them forward.
INDIVIDUAL MERIT AWARDS:
Teacher/Administrator – Amber Paul
As Principal of Fort Vermilion Public School / St. Mary's Catholic School, Amber Paul has consistently risen to challenges thrown her way. Coming into the school after the year had begun, Amber hit the ground running and brought the school, staff and community together with intention.
Support Staff – Heather Bedard
A key part of the Rainbow Lake School team, Heather Bedard has held many roles over the years as an Educational Assistant, she has also taught Speech and Early Literacy and is there to support students whenever needed. Heather is always ready with a helping hand and a positive attitude.
Bus Driver – Ruth Doerksen
After 25 years of driving in the La Crete area and a challenging school year, Ruth Doerksen has demonstrated her dedication to the students she drives many times over. She has a way of making each child feel special and important, always ready with a friendly smile and cheerful greeting.
LONG SERVICE AWARDS:
5 YEAR AWARDS
Mariam Amoo
Erika Balsor
Shane Balsor
Lindsey Bandy
Jennifer Brenton
Amanda Cameron
Lauren Connellan
Gary Driedger
Danielle Fehr
Gitty Giesbrecht
Shaelyn Goertzen
Caryn Janzen
Tina Jones
Kean Lanti
Johannah Loewen
Madeleine McKechnie
Hayley Murphy
Tracy Neudorf
Megan Parenteau
Anna Peters
Amanda Robinson Petrie
Casey Sheridan
Alexandra Skinner
Katharina Smith
Olivia Sturge
Erikalynne Symes
Chandra Tincombe
Mandy Washkevich
Brandon Wolfe
 
 
 
 
10 YEAR AWARDS
15 YEAR AWARDS
Vanessa Beringer
Pam Boese
Helen Buller
Susan Driedger
Tasha Hostler
Stephen Kirkpatrick
Winter Mercredi
Fred Smith
James Weller
Gail Akinneah
Jose Anez
Darren Arbeau
Wanda Bueckert
Stephanie Connors
Bob Doerksen
Marian Enfield
Jonathan Hache
Chad Hunley
Dale Hussey
Paula Lepensee
Katherine Rose
Tina Schellenberg
Jackie Winsor
 
 
 
 
20 YEAR AWARDS
25 YEAR AWARDS
George Boehlig
Grant Charles
Jenny Dempster
Shane Dempster
Shannon Fordham
Theresa Freeman
Chad Fyke
Holly Isaacs
Kathy Janzen
Krista Lederer
Krista MacLean
Mike McMann
Michelle Metacat-Yah
Rachel Neufeld
John Borges
Ruth Doerksen
Martha Driedger
Judy Dyck
Richard Halladay
Aggie Knelsen
Carole Shelton
Debbie Toews
 
 
 
 
30 YEAR AWARD
35 YEAR AWARD
40 YEAR AWARD
 
Anna Marie McAskile
Allan Spelrem
Susan Bueckert
 
Merit & Long Service Awards / Retirement Gala & Dinner
FVSD Board of Trustee Chair, Marc Beland is pictured presenting the awards on June 28, 2022 at a ceremony held in the FVPS/SMCS gym. The Retirement Gala & Dinner was held on May 28, 2022 at the Mirage Conference Centre in High Level.