FVSD Blast Program featured in Move Up Magazine!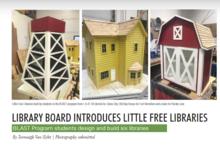 Notice to local parents:
Check out this great feature in Move Up Magazine, featuring a joint project between the Fort Vermilion School Division BLAST (Busy Learning and Serving Together) program and Mackenzie County Library Board!
The story and photos begin on Page 22!
https://www.moveupmag.com/archives?fbclid=IwAR3E2UYgsJcc80OKoxj3aFoubfjFqWkia8OILlGKdbeovu0qhUDEOsfLVxg