Back to News
FVSD Announces New School for the 2022-2023 School Year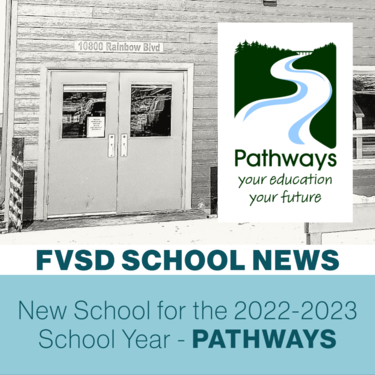 With a focus on parent choice in education and a supportive environment for students, Pathways is the newest school to join the Fort Vermilion School Division district.
As an alternative education provider, Pathways overarching goal is to support students and their families as they navigate the education landscape. "The Fort Vermilion School Division believes in choice in education" said Superintendent Mike McMann. Interested students and their families are able to sit down with Pathways staff and discuss all options available to them, choosing the best education path for their individual needs.
Set to open for the 2022-2023 school year, Pathways will house the existing At-Home Learning Centre (AHLC) and the Learning Stores Outreach Program (LS). The flexibility and support offered by both AHLC and LS allows students to keep up with their studies despite challenges they may face. Pathways will also work closely with Northern Home Education, providing blended programming to meet the needs of homeschooling families.
Superintendent McMann emphasized the importance FVSD places on parent involvement and choice when it comes to education, "Pathways provides parents with choice on how they want to educate their child. FVSD is here to support all families in educating all children in our Region."
Although the main school building is in High Level, Pathways serves all of Mackenzie County and welcomes students from communities across Alberta. In addition to the High Level location, Pathways will also continue operating the satellite Learning Store in La Crete.
AHLC provides synchronous online learning for grades one to nine students. Students start the school day much like a traditional classroom setting with morning announcements followed by instruction from a certified teacher. On any given school day, the hallway at AHLC is abuzz with the sounds of students engaging with their teachers as they learn and connect with one another. Fieldtrips and group events (both virtual and in-person) provide students opportunities to interact with classmates outside of the learning environment.
Students in grades nine to twelve who find that regular school programs and services do not meet their needs can complete high school and obtain their diploma through the Learning Stores. In this non-traditional approach to education, students take charge and are involved in planning course selections and determining the pace of completion. Low student/educator ratios and a supportive environment allow staff and students to develop more meaningful relationships, providing greater insight into challenges a student may face.
Pathways Principal, Kim Brown is looking forward to the 2022-2023 school year and her new role. "Principal of Pathways is an exciting opportunity to support students and families in their educational journey," said Brown.

"As a proud educator of this school jurisdiction for the past 20 years, I recognize that there are many paths to learning. The challenges presented over the last couple of years have demonstrated that education is ever evolving. As we look at providing an education for students, we need to be creative, flexible, and future-orientated."

 
Click here to visit the new Pathways website for the most up-to-date registration and school information.