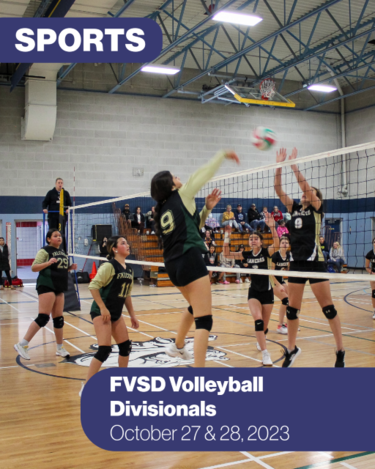 Fort Vermilion Public School Falcons brought the heat last weekend at FVSD Divisionals!
Junior and Senior teams brought home three gold medals and a bronze medal claimed by the combined Fort Vermilion Public School and Rocky Lane School Senior Boys team. 
Schools from across the Division came together at La Crete Public School and High Level Public School on October 27 & 28 for an exciting two day event with close games and plenty of cheering fans! Teams from John D'Or Prairie School and Chief Tallcree High School joined FVSD for the 2023 Volleyball Season, bringing home a gold and silver medal for the John D'Or Eagles and a bronze medal for the Tall Cree Tornadoes. 
The top teams from our Division will soon be heading to Zones!
Junior teams will be playing this coming weekend at schools around Northwestern Alberta. Two events will be happening at FVSD schools with the 1J Girls playing at Rocky Lane School and 3J Boys playing at High Level Public School. Come out and cheer on our local teams! 
Senior Zones are happening the weekend of November 17 & 18 in Hines Creek, Manning, Fairview and Peace River. Be sure to follow your school Facebook page for game results and links to watch the action from home! 
Junior Divisional Results
| | | |
| --- | --- | --- |
| RANK | GIRLS TEAMS | SCORE |
| GOLD |   Fort Vermilion Public School Falcons | Win 2-1 |
| SILVER |   La Crete Public School Lancers (A Team) | Lost 2-1 |
| BRONZE |   Chief Tallcree High School Tornadoes | Win 2-0 |
| | | |
| --- | --- | --- |
| RANK | BOYS TEAMS | SCORE |
| GOLD |   Fort Vermilion Public School Falcons | Win 2-1 |
| SILVER |   High Level Public School Bears | Lost 2-1 |
| BRONZE |   La Crete Public School Lancers | Win 2-0 |
Senior Divisional Results
| | | |
| --- | --- | --- |
| RANK | GIRLS TEAMS | SCORE |
| GOLD |   Fort Vermilion Public School Falcons | Win 2-1 |
| SILVER |   John D'Or Prairie School Eagles | Lost 2-1 |
| BRONZE |   High Level Public School Bears | Win 2-1 |
| | | |
| --- | --- | --- |
| RANK | BOYS TEAMS | SCORE |
| GOLD |   John D'Or Prairie School Eagles | Win 2-0 |
| SILVER |   La Crete Public School Lancers | Lost 2-0 |
| BRONZE |   FVPS Falcons / RLNS Rockets | Win 2-0 |
FVSD Volleyball Divisionals - Team Photos