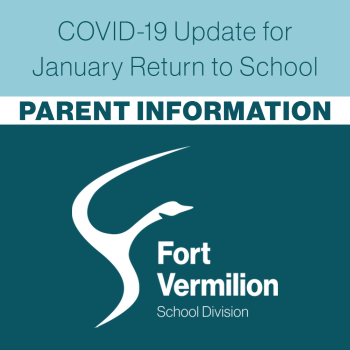 FVSD students will be returning to in-person learning next Monday, January 10, 2022. After a brutally cold winter break, staff are looking forward to welcoming students back into classrooms and a forecast for warmer weather next week! 
Following a delay in returning to school for many districts in the province, the Alberta Government has confirmed that all students will be returning to school next week. In addition to this latest announcement there are a few things for parents/guardians to be aware of:
DAILY HEALTH CHECKLIST & ISOLATION REQUIREMENTS
Please complete the Alberta Health Daily Checklist before attending school, child care or other activities each day. It is important to keep your child home if they are feeling unwell! Staff are also required to complete the adult checklist and follow provincial requirements for isolation if symptomatic.
As of January 3, the isolation requirements for fully vaccinated individuals has changed from ten days to five. 
Fully Vaccinated (2 doses or 1 Janssen dose): Isolate for 5 days from the start of symptoms or until symptoms resolve, whichever is longer (for symptoms not related to a pre-existing condition). For 5 days following isolation, wear a mask at all times when around others outside of home.
Not Fully Vaccinated (1 dose or less): Isolate for 10 days from the start of symptoms or until symptoms resolve, whichever is longer (for symptoms not related to a pre-existing condition).
Please Note: If you test negative for COVID-19 but have symptoms, you should still remain home until symptoms resolve.
RAPID TEST KITS
At home test kits are being shipped to schools beginning this week with the initial deliveries expected by January 14. Students and staff members will have access to enough test kits to test twice per week for 2.5 weeks. Check with your school for more information on distribution or how to obtain a testing kit. 
Watch this video to learn how to administer an at-home rapid test: 
MASK DISTRIBUTION & MASKING REQUIREMENTS
Medical grade masks (adult & pediatric) are also being shipped to schools beginning this week, students and staff will initially receive a two week supply of 10 masks (2 per day). Each individual will receive an 8 week supply in total once distributions are complete.
There has been no change to the current masking requirements already in place for FVSD schools. All staff and students in Grades 4-12 are required to wear a mask, younger students may wear a mask if they wish but are not required to.
VACCINATIONS
Alberta Health Services offers vaccinations for everyone 5 years of age and older. Appointments can be booked online or by calling 811. 
Vaccines are NOT mandatory for FVSD students and we respect the decision of each family regarding vaccinations. 
DIPLOMA EXAMS
January diploma exams have been cancelled. A decision has not yet been made about April, June and August exams; more information will be released at a later date.
E-TUTORING HUB
Starting January 11, students in Grades 4-9 and their parents will be able to access free online tutoring through the Alberta E-Tutoring Hub. This online tutoring service is intended to help students catch up on important learning and skills. More information will be sent out once it becomes available.
Visit the Alberta Government website for the most recent information on staying safe and healthy this school year.