View All News
COVID-19 Update for Parents and Students - March 1, 2022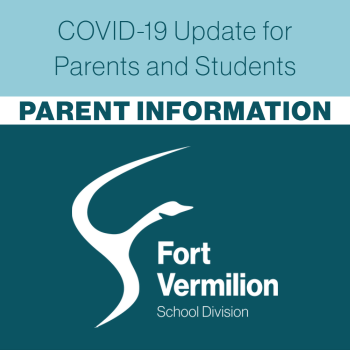 Last Saturday, the Alberta government confirmed that the province is moving forward with Step 2.
The following changes came into effect Tuesday, March 1:
Any remaining school requirements removed (for example: Kindergarten to grade 6 cohorting);
Youth screening activities for entertainment and sport activities removed;
Capacity on all large venues and entertainment venues lifted;
Indoor and outdoor social gathering limits lifted, including for all wedding and funeral events;
Mandatory work-from-home requirements lifted;
Provincial mask mandate lifted except:

on municipal and intra-provincial public transit for Albertans 13 and older,
at AHS-operated and contracted facilities, and all continuing care settings.
Source: COVID-19 Public Health Actions (Alberta.ca)
What does this mean for FVSD schools?
IF YOU ARE SICK: Stay home! Remain at home until symptoms resolve and your child is feeling better. Daily screening for symptoms is recommended along with proper hand hygiene and respiratory etiquette. Please review the updated FVSD Symptom Flowchart for more information: COVID-19 Symptom Flowchart - March 2022
*PLEASE NOTE: Mandatory isolation requirements are still in effect for individuals with primary symptoms or who have tested positive for COVID-19.
MASKING: The provincial mask mandate has been lifted for most settings - staff, parents/guardians, and visitors are NOT required to wear masks in school buildings but are welcome to wear one if they choose. FVSD respects individual and family choices regarding masks and will support those decisions. 
*PLEASE NOTE: Continuous masking must be followed for up to 5 days following mandatory isolation due to primary symptoms or COVID infection.
SPORTS: Capacity limits were removed when the province entered Step 1, schools are now allowing spectators from other schools/communities to attend games. 
FACILITY RENTALS: FVSD facilities such as gymnasiums will begin opening back up for rentals, please check with your local school for details.
For more information about what to expect in schools, please visit the Alberta webpage: Staying Safe and Healthy this School Year