FVSD volunteers thanked for role in Chuckegg Creek fire emergency efforts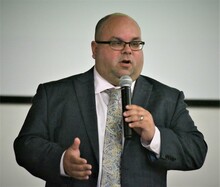 A heartfelt thank-you from prominent community leaders closed out a busy professional development day as the hundreds of Fort Vermilion School Division employees who volunteered during the Chuckegg Creek fire emergency this past summer were officially thanked for their service.
The day, spent at High Level Public School, involved the more than 500 FVSD employees and featured long service awards and a Keynote address by Jimmy Casas, an educator, author, and professional speaker.
FVSD Superintendent Mike McMann told those in attendance he wanted to take a moment and thank those who had volunteered in any capacity during the two major evacuations and numerous smaller events as the Mackenzie County communities dealt with the emergency.
"At the May Long Weekend, our world kind of got turned upside down," he said. "And we really haven't had a chance to exhale from that. I don't think I've been prouder as a superintendent in my entire life than when an entire group gets together and pulls it through."
"I don't judge anyone who left," he said. "I wasn't in that situation when everyone had to evacuate. Everyone was scared. Nobody knew what was going to happen. And we just got up and left. But there was a huge group of people who didn't."
Speakers included Reeve Josh Knelsen and CAO Len Racher from Mackenzie County, and Mayor Crystal McAteer and Clark McAskile, High Level CAO and FVSD Board Chair.
"It was quite the summer," Knelsen said. "Even though it was quite traumatic for a lot of people, thanks to many of you in here, you made it very bearable. The countless hours that many of you put in from driving bus to cooking meals, cleaning up bathrooms and messes, and providing security – the list goes on. Thank you very much. It was very selfless of all of you.
"It was really the true meaning of community and spirit."
McAteer pointed to the hard work of behind-the-scene teams of staff and volunteers who did exceptional work.
"This team our Council had was excellent," she said. "They stayed here, they made sure the water was running and your houses were looked after. They made sure some of your pets were looked after. They were amazing in every aspect."
She also asked teachers to think about how they can make their school or their division the best it can be – by being the best teachers they can be.
"That sends the message all the way up the line," she said. "Its not the person (at the top) who is great.
"It's you guys who are great. I can't say enough about the team I had at the Town of High Level, and I cannot say enough about the citizens of this community who evacuated so smoothly. I can't say enough about the teachers who helped out."
"It's you people who make this community great."
"Yes, I am the one who kicked everybody out of Town just four weeks into my job," McAskile joked. "And I must say, it's really easy to run a town when there is nobody in it."
Switching hats, McAskile then thanked those in attendance on behalf of the FVSD Board of Trustees.
"Wherever it was, whatever time it was, and whatever service you provided, every little bit helped."
McAskile said the quality of a person or organization is often only seen during times of crisis.
"From my way too-close perspective on this fire, FVSD and its employees measured up exceedingly well," he said. "Your dedication to this region and willingness to step up and help, and your commitment to do what was right, made all the difference this summer. Well done. And thank you very much."
Racher said when Mackenzie County faced the evacuation of La Crete, he was responsible for issuing that order.
"It started raining right after I did it," he joked. "So you know how well that went."
During both evacuations, Mackenzie County was responsible for housing thousands of people. It was then, he said, the staff at FVSD really came through.
"(McMann) and you people really stepped up to bat," he said. "We went from housing some people to housing (a lot of them). We couldn't have done that without the support that you gave us. For that, we are totally grateful."
FVSD staff then had a chance to share some of their stories from the events around the Chuckegg Creek fire. McMann spoke about how so many gave so much, and how grateful he was. McMann himself played a large role during the evacuation, and said it was special to see others who were involved in managing the disaster now that it is over.
He spoke about how the volunteers in Fort Vermilion began referring to different parts of the town as neighbourhoods in New York City, and how people were affected by the realization that the amount of work needed to care for the evacuees because harder as the days wore on.
"The first three days, everybody wants to help," he said. "But when you get to day four, it becomes work.
"I'm really thankful for all of you, and I think we made FVSD extremely proud to be a community and come together. And I know that people will be forever grateful for what was accomplished there."
Additional photos