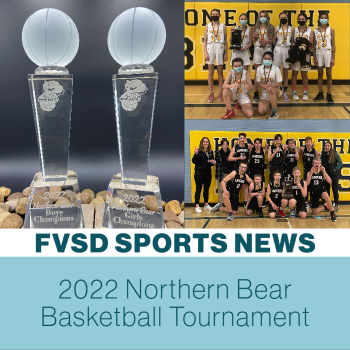 The 18th Annual Northern Bear Basketball Tournament wrapped up Saturday evening after a fantastic weekend of games! Hosted by High Level Public School (games were also held at SNCS), the tournament drew junior teams from La Crete, Hillcrest, Fort Vermilion, High Level, Grimshaw and Peace River.
With the tournament last year having been cancelled due to health restrictions, coaches and players were pumped to be back on the court this year! Teams battled it out on the court with the final medal games delivering an exciting finale to the weekend event.
Fans from near and far cheered on their favorite team from home while watching the games in real time - HLPS livestreamed from YouTube and SNCS games were livestreamed via Facebook. Shout out to Chackie Estacio, HLPS Alumni and former athlete, for his fantastic commentary on the HLPS livestream! 
Congratulations to the Tournament Champions!

The Junior Boys title was won by the La Crete Public School A Team and the Junior Girls title was won by the High Level Public School A Team! All of our players put in a tremendous amount of hard work and are to be commended. Way to hustle teams, we are proud of you! 
TOURNAMENT RESULTS
JUNIOR BOYS
JUNIOR GIRLS
Tournament Champions
La Crete Public School (A Team)
Tournament Champions
High Level Public School (A Team)
Silver Medalists
High Level Public School
Silver Medalists
La Crete Public School (A Team)
Bronze Medalists
Hillcrest Community School
Bronze Medalists
Peace River High School
Consolation Winners
La Crete Public School (B Team)
Consolation Winners
Fort Vermilion Public School
Tournament MVP
Lukas Wolfe, #22 (LCPS)
Tournament MVP
Keira Komarnicki, #2 (HLPS)
Many thanks goes out to Athletic Director and HLPS Coach, Megan Paynter, for all the time and effort she put into organizing this year's tournament! There are a lot of moving pieces to an event like this and we are grateful to have dedicated staff who make these events possible. 
Visit the 2022 Northern Bear website for more results, photos, team information and links to watch the games!
2022 Northern Bear - Jan 21 & 22