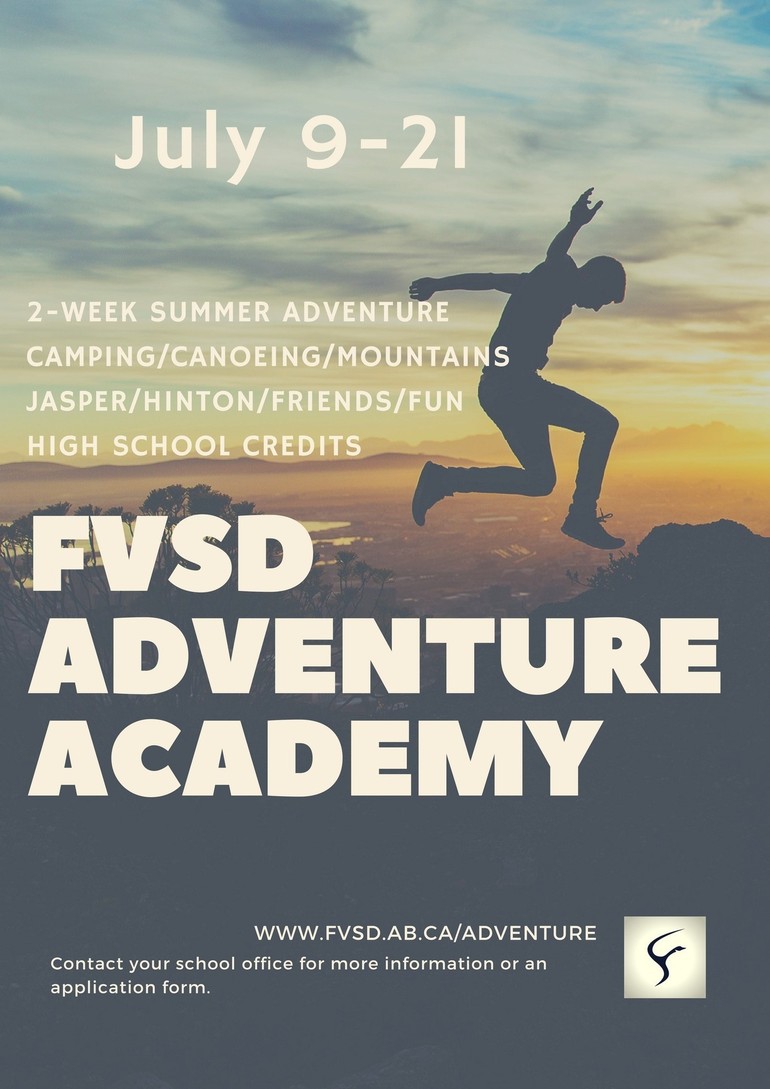 PROGRAM INFORMATION
The FVSD ADVENTURE ACADEMY offers male and female students an opportunity to further their High School Education in an outdoor pursuits program during the summer months.  Each Adventure Academy camp consists of two weeks of camping split by a weekend at home.  Under the supervision of a Certified Teacher and Trained Staff students will gain skills in camping, canoeing, leadership, first aid, archery, fishing and outdoor survival skills.   These skills will translate into a potential 12 High School credits as well as several certifications (listed below.)
Week 1 will occur from Monday to Friday at Machesis Lake campsite as well as Rocky Lane School.  Students will live at the lake in tents supplied by the Adventure Academy, spending time here and at Rocky Lane, depending on the activities planned for each day.  This first week will be a teaching and training week, heavy on instruction and learning in a variety of the skills mentioned above.  Students will clean up camp on Friday afternoon and return home for the weekend.
Week 2 will occur from Sunday noon until they return home on the following Saturday.  Students will be transported, along with all necessary supplies to Hinton, Alberta where they will be camping at the KOA Campground.  Students will be given an opportunity to utilize and practice the skills they were taught the week prior in both the Hinton and Jasper areas.  This will include flat water canoeing, hiking, camping, outdoor cooking, and orientation.  Day trips to the mountains will be planned to provide experiences to practice skills.
WHO CAN ATTEND?
In order to be considered for the FVSD ADVENTURE ACADEMY, FVSD students must send a completed application to Karen Smith, Supervisor of Learning Services, by May 9, 2018.  Mrs. Smith and  FVSD High School Principals will determine successful candidates by utilizing the criteria listed below.  Spots are limited, as only 19 participants will be chosen for the camp.
Criteria:
· FVSD Student in good standing as of June 28, 2018
· Entering Grade 10-12 in the 2018-2019 school year
· Have not graduated from High School
· Work Ethic
· Principal's recommendation
· Availability of space
 Successful applicants will be notified by May 31, 2018.
CAMP DATES/PROGRAM  FEES
July 9-13 @ Machesis Lake/Rocky Lane
July 13 evening—July 15 noon @ home
July 15-July 21—Hinton/Jasper
Fee:  $180 (Fee waiver forms can be picked up at schools and must be submitted with the application.)
POTENTIAL CREDITS/CERTIFICATES
• Foods1010   • HCS2020   • ENS1010   • WLD1090   • WLD1100   • WLD1130   • WLD1060 •   WLD2100 •   WLD2130
·  Tou1010   • Tou3120  • Water Experience 15/25
• First Aid/CPR Certificate  • Boating License Certificate  •  Flat Water Canoeing Certificate